Shipping and Payment
6. Payment
To ensure your security EliteCrafters.com does not store or retain credit card or bank account data upon finalization of payment. All transactions are processed safely via Viva Payments Services SA. Viva Payments is e-money institution licenced and supervised by the Bank of Greece for operations in the EEA-31 region which encrypts all submitted information. All transactions are in the Euro (€) currency.
Viva Payments adheres to the PCI Data Security Standard (PCI DSS) and implements the prerequisite security policies, which are constantly evaluated by a certified security auditor.
To ensure data transfer security the encryption protocol EV SSL-128bit is used. Access is controlled by using the latest technology in Firewalls, Intrusion Detection and Denial of Service Protection Systems.
The same basic privacy and confidentiality principles that apply to "traditional" banking, also apply το Viva Payments.

For more info regarding Viva Payments company, its services and its transaction security systems please visit www.vivawallet.com.

EliteCrafters provides customers with convenient methods of payment. The following are accepted:
 
6.1 Credit / Debit Cards
Credit Card or Debit Card Payment is convenient and immediate. We accept VISA®, MASTERCARD® AMERICAN EXPRESS®, DINERS CLUB®, DISCOVER® credit cards.
To ensure our customers receive the highest level of security, transactions are processed through Viva Payments institution electronic transaction systems that use 128-bit SSL protocol (Secure Sockets Layer).

This encryption method encrypts data before it is transmitted over the internet to ensure personal information cannot be accessed and used by unauthorized persons.
Encryption is a security device that keeps information that passes through the Internet private and secure.
Customers with credit cards may use them for payment via PayPal. Please read further below under 'PayPal' (paragraph 6.3)

 
6.1.1 Klarna Payments

We've partnered with Klarna, to offer you even more flexible payment options.
Pay in 3 interest-free instalments,


Split your purchase into three payments so you can spread the cost of your purchase over time.
Pay in 30 days,
Buy the item that you love today and pay up to 30 days after placing your order.
Klarna also offers several benefits to buyers (i.e buyer protection, etc)
Only for your first purchase you need to register with Klarna
6.2 Bank deposits
We accept bank transfer payments through e-banking or bank deposits to the below bank accounts options:
Beneficiary of the accounts is our company ARTIA Ltd
Option A
Bank: EUROBANK ERGASIAS
Swift Code: ERBKGRAA
IBAN: GR5302600190000590200860818


Option B
Bank: NATIONAL BANK OF GREECE
Swift Code: ETHNGRAA
IBAN: GR7301105290000052920173938

Option C
Bank: BANK of PIRAEUS
Swift Code: PIRBGRAA
IBAN: GR3801720750005075070519915
Viva Wallet Payments
Code: 800406051 (VAT)
Beneficiary Name: ARTIA LTD
Valid for Viva Wallet Subscribers
6.3 Paypal
We accept payments via PayPal using credit cards, debit cards, or money transfers.
PayPal is a well known international way of executing electronic transactions. Payment is safe, easy, immediate and widely accepted online as customer card data and account details are not revealed and securely stored and encrypted on their servers. Paypal also fasilitates transactions in different currencies. For further information please visit: www.paypal.com.
8. Shipping Services
Elitecrafters team works with the best carriers available in order to offer fast & secure shipping service along with cost effective rates to our customers.
We Really do Ship Worldwide !!!


8.1 Carriers & Services

Post Service - ELTA (Registered Post With Tracking Number)
This service is only offered as an economy alternative option to our customers for very small & light items (selected destinations).
Hellenic Post Service – ELTA

(Registered Post With Tracking Number)

Zone

Delivery Time

(Business Days)

European Union

4 - 6

Rest of Europe

5 - 7

Middle East

6 - 9

USA - Canada - Mexico

8 - 15

Africa

8 - 15

Russia

6 - 9

Asia

8 - 15

Rest of the World

10 - 20
Hellenic Post Service Tracking >>> Click Here

All orders for Greece & Cyprus(FPC, view next service) are shipped with ELTA Courier service which offers low shipping cost & fast delivery.
ELTA Courier (Greece)

Zone

Delivery Time (Days)

Attica

1 - 2

Mainland Greece

1 - 2

Islands

2 - 3

Crete

2 - 3

Remote Destinations

+ 1 - 2
ELTA Courier Tracking Service >>> Click Here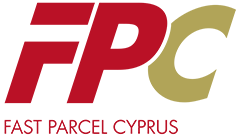 FPC Service (Fast Parcel Cyrpus)
ELTA Courier & Kronos Express co-operation offer's this service exclusively for Cyprus.
All orders Cyprus are shipped with FPC service which offers very low shipping rates & very fast delivery (1-2 Business Days).
FPC Cyprus Tracking Service >>> Click Here

Elitecrafters uses DHL EXPRESS as the main shipping service worldwide (Except Greece).
DHL EXPRESS service offers new low cost rates and very fast delivery globally.
DHL EXPRESS worldwide

Ζone

Delivery Time (Days)

European Union

1 - 2

Rest of Europe

1 - 2

Middle East

2 - 3

USA - Canada - Mexico

2 - 3

Africa

3 - 4

Russia

2 - 3

Asia

2 - 4

Rest of the World

3 - 6
**** Specific delivery time for each country will appear on checkout, as soon as you select the delivery country
DHL EXPRESS Tracking Service >>> Click Here

DHL ECONOMY (Selected European Countries)
This a brand new DHL service that offers quick delivery (by Train or Truck) with very low cost.
DHL Economy is the ideal service for heavy or bulky items, especially when you are flexible with delivery days.
DHL Economy is available only for the following countries:
| | |
| --- | --- |
| Country | Delivery Time (Days) |
| AUSTRIA | 3 |
| BELGIUM | 4 |
| BULGARIA | 2 |
| FRANCE | 4 |
| GERMANY | 4 |
| DENMARK | 5 |
| ESTONIA | 5 |
| IRELAND | 5 |
| SPAIN | 4 |
| ITALY | 3 |
| CROATIA | 4 |
| LATVIA | 5 |
| LITHUANIA | 5 |
| LUXENBURG | 4 |
| UNITED KINGDOM | 5 |
| MONACO | 5 |
| HOLLAND | 5 |
| HUNGARY | 3 |
| POLAND | 4 |
| PORTUGAL | 5 |
| ROMANIA | 4 |
| SLOVAKIA | 4 |
| SLOVENIA | 4 |
| SWEDEN | 5 |
| CZECH | 4 |
| FINLAND | 6 |
| SWITZERLAND | 5 |
| NORWAY | 6 |
DHL Economy Tracking Service >>> Click Here


**** Recipient's telephone number is mandatory for all the above carrier services.
8.2 Order's Handling Days
Your order process begins the next business day after your order has been placed.
Since all Elitecrafters products are handmade a lead time for processing orders is required before shipping.
This lead time varies (Business Days / Monday to Friday) depending on the product and is clearly mentioned in every product detail page as "Days to Ship".

Please view picture below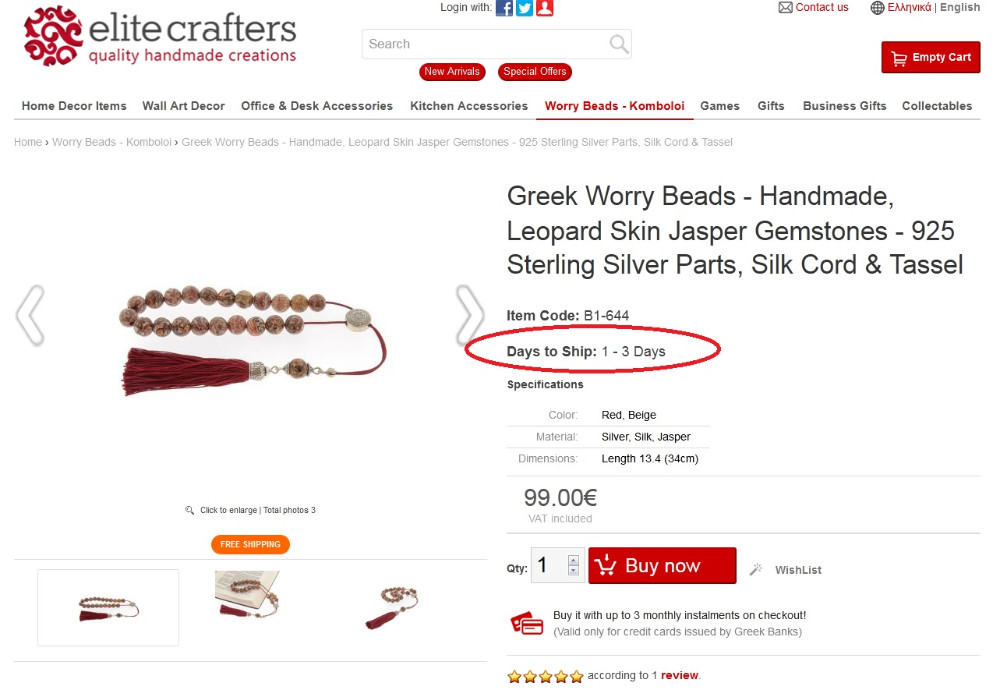 8.3 Order Delivery Time (in total)
Customers are kindly advised to keep in mind that the total time from ordering date until delivery date, is the sum of the handling days 'Days to Ship' + Selected Carrier Service 'Delivery time' for the specific delivery destination.
(Please view paragraphs 8.1 & 8.2) In cases of customs clearance delays we are not responsible.
8.4 Shipping Costs
The shipping cost that is automatically calculated & included in every order in Elitecrafters.com online store is relative to the cost of shipping only.
Any additional taxes, duties, fees or expenses that the order may be charged, according to the applicable legislation in each country, are not included in the shipping cost.
The buyer is totally and exclusively responsible for these additional costs
 
8.5 Quarantine
In accordance with the domestic legislation in some countries and depending on the product materials, it is possible that a quarantine period may be applied on a package by the customs authorities in some countries before final delivery to the purchaser.The quarantine period is not included in delivery time tables above.
Compliance with the applicable customs rules of each delivering country is absolute responsibility of the customer/buyer.

8.6 Units of Measurement & Weight Calculation
The Official Elitecrafters measuring units used are centimeters (cm) in dimensions and the kilograms (kg) for weight.
Dimensions in inches and weight in Libras is given as extra information and for user convenience. All courier companies calculate the dimensional weight (or volumetric weight) and compare it to the actual weight of the shipment.

The Volumetric Weight calculation formula is based on the regulation set by the International Air Transport Association (IATA) whereby the cost is based on whichever is greater between the actual weight versus the volumetric weight.
The official formula for calculating the volumetric weight (kg) of a shipment is calculated by multiplying the three dimensions of the package (cm) divided by the number 5000.

Volumetric Weight (kg) = Length (cm) x Width (cm) x Height (cm) / 5000

IMPORTANT NOTE.
In any case our Customer is going to pay for shipping the amount displayed at the time of placing his order (during check out). No extra or additional shipping fees is charged afterwards
8.7 Shipment Order Tracking
Once your order departs our premises you will receive an automated informative email.
This email includes a unique carrier tracking number and a web link that leads you to the "Track & Trace" page of the carrier company.
By entering the tracking number (provided in our order shipping notification email) in the appropriate field in this web page, you can trace your package and get information about the shipping status of your order.

Please view each carrier's "Track & Trace" links in the above paragraph 8.1
8.8 Liability of Shipment - Delays
Our company is taking all necessary measures to ensure timely delivery of products ordered.
Elitecrafters is not responsible for any delays caused by force majeure or events that are not in its control, including delays in customs, loading / unloading stopovers, transport strikes or any other strikes affecting the shipment from our premises or the arrival of products to our premises from our suppliers etc. Our sole responsibility is to inform you and arrange a new delivery date when and if applicable.
Buyers have full the responsibility for product's shipment.


8.9 Special Handling Orders
In cases of special orders of large quantities, high volume or weight, custom large items, extremely fragile items or the courier service is too costly, the best shipping method is through a forwarding or freight company.
Elitecrafters.com collaborates with large international transport / shipping companies.
However you are welcome to inform us of the forwarding company of your choice by communicating with us in order to arrange shipment accordingly.
Payment of large orders are accepted only by direct deposit to the company's bank account (refer to 6.2 'Bank deposits'). If you intend to place an order with any of the above characteristics, before proceeding we suggest you to contact us for assistance.
If Elitecrafters.com receives an order that, according to the above, is characterized as a 'special handling order', then we will contact you to arrange the most effective shipping choice while processing the order.

In cases of 'special handling order' you are welcome to contact us. We will be glad to assist you.

The content and provisions of this section constitutes integral and inseparable part of the elitecrafters TERMS & CONDITIONS set.