Boats & Sailboats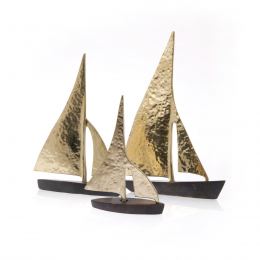 Elitecrafters' collection of handmade decorative sailboats, sail boats, ships and vintage boats will enhance your home decoration with a nautical theme.
All table top boats and sailing boats decorative ornaments are handmade of solid cast metal (brass or aluminum), glass (fused) or ceramic (Stoneware Quality)
Sailing boat sets are available, for you to select the perfect nautical theme decor or offer it as a stylish gift.
Combine different sailboat styles, colors and sizes and create you personal favorite nautical theme.
More on Boats & Sailboats ▼
---
Sort By:
Showing 1 to 30 of 30 (1 Pages)
Showing 1 to 30 of 30 (1 Pages)