Business Gifts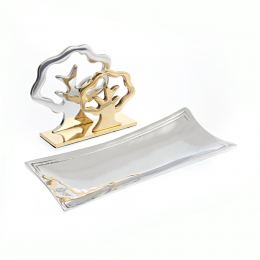 Elitecrafters offers a wide collection of quality handmade corporate gifts or business gifts for every for every event, occasion or budget.

Choose from our wide range of business gifts or let's create a customized corporate gift according to your specific requirements. The end result will be high a quality handmade business gift that will represent your business in a very positive way adding value in every event or occasion.
Download our Business Gifts or Corporate Gifts Catalogue and select your business gift between 1000+ handmade designs of office decor & accessories, collectibles and one-of-a-kind creations, sculptures, wreaths, awards and trophies in original classic or contemporary style. We offer a wide variety of magneficent themes such as cultural, historic, nature, ocean - sea life, themes with the unique value of the handmade creation
Elitecrafters offers corporate gifts or business gifts for every occasion or event such as employee gifts, executive gifts, corporate Christmas gifts, seminars - conferences & summits memorabilia, Trophies & Awards, new product launch, promotional gifts and so much more.

Complete set of Business gift services such as:
• Custom Made Business Gifts
• Engravings & Plaques
• Exclusive Custom Design !
• Gift Wrapping & Packaging (Multiple Options)
• Insertions / Add ins
• Worldwide Shipping !

We are proud that well known businesses in many industries, including Hotel & Tourism, Pharmaceutical, Transport, Shipping, Retail, trust Elitecrafters constantly for their business gifts.
Enhance your corporate image, to partners and customers, by offering unique handmade corporate gifts or business gifts by Elitecrafters.
Select a sub-category