Chess Set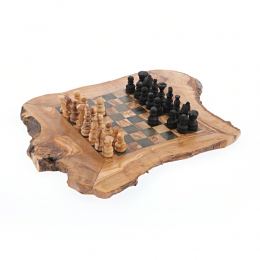 Elitecrafters selected quality, handmade olive wood chess game sets are a stylish & valuable chess game choice.
Every olive wood chess set consists of a chess board and chess pieces which are entirely handmade with the finest Greek natural olive wood ( density of 92% or more) for you to enjoy many hours of chess playing.
Our Olive wood chess sets have limited availability due to rare olive wood and the fact that they 100% handmade.

Choose the perfect wooden chess set as a gift for you or for someone special.
---
Sort By:
Showing 1 to 18 of 18 (1 Pages)
Showing 1 to 18 of 18 (1 Pages)