Olive Wreaths & Trees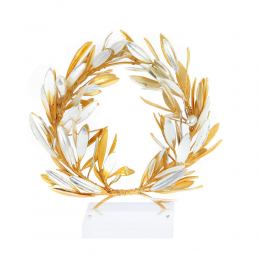 Elitecrafters has an exclusive category of handmade decorative creations dedicated to olive wreaths, olive branches, olive trees & laurel wreaths decor centerpieces.
Enhance your decor with a laurel wreath or branch, olive wreath, olive branch or olive tree ornament, all symbols of peace, prosperity, fair play and excellence.
Choose your perfect olive wreath or laurel wreath decor from a wide variety of styles, sizes and shapes, handmade of brass, metal or real natural olive tree branches coated with 24k Gold or / and 925 sterling silver.
Wreaths in general, especially laurel or olive wreaths are the ideal gift for every occasion or event.
Custom made wreaths are available upon request.
More on Olive Wreaths & Trees ▼
---
Sort By:
Showing 1 to 51 of 51 (1 Pages)
Showing 1 to 51 of 51 (1 Pages)