Decorative Games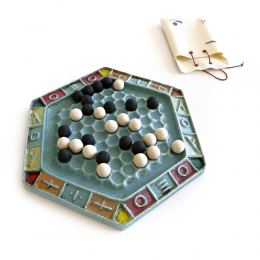 Elitecrafters presents it's special collection of unique handmade decorative board games & ancient game replicas.
Ancient game replicas from Egypt, Greece, Messopotamia and Sumeria.
Ancient board games like Knossos, Fighting Serpents, Royal Game of Ur, Senet, Nine Men's Morris, Tic Tac Toe, Solitaire, Abalone and Dominoes.
All our decorative games in this section, are low production items, 100% handmade and handpainted, perfect indoor or outdoor decorative centerpieces or great collection additions.
All decorative board games are fully functional, so you are able to play the game (Playing instructions are included)
 
More on Decorative Games ▼
---
Sort By:
Showing 1 to 20 of 20 (1 Pages)
Showing 1 to 20 of 20 (1 Pages)