Games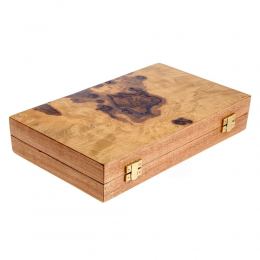 This section is dedicated to quality handmade decorative games & board games to enjoy playing or to decorate your place.
In this category you'll find fine quality handmade decorative games, in a wide variety of colors, sizes, shapes & forms in order to add a modern "playful" tone to your indoor or outdoor decoration. These decorative board games are also functional, so you can play if you wish! Wooden Brain Teasers & 3D Puzzles will offer you and your love ones many hours of joy & fun.
Quality handmade wooden backgammon sets & chess sets in many different designs & sizes
Unique & rare selection of fine quality old or ancient games replicas, ideal as decor centerpieces or as perfect collectors items.
Add style and class to your home, office and patio with our handmade decorative games, or have fun with our quality handmade board games.
Select a sub-category
Products in current category
Sort By: