Backgammon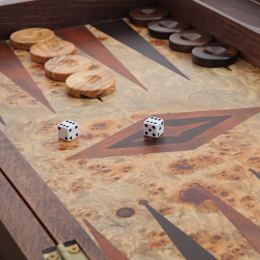 Elitecrafters handmade backgammon set collection offers a wide variety of designs, styles and sizes options in order for you to choose the perfect backgammon set.
Select a luxury backgammon set made of olive wood, rosewood, mahogany, walnut in 3 sizes: large, medium & small (travel size), that will offer you many hours of fun.
We have a wide range of vintage style backgammon sets with a variety of inlaid painted pictures, also in 3 sizes to select the one suitable for you.
Backgammon sets are ideal personal gifts specialy to backgammon players and enthusiasts.
---
Sort By:
Showing 1 to 52 of 52 (1 Pages)
Showing 1 to 52 of 52 (1 Pages)