Nautical Gifts catalogue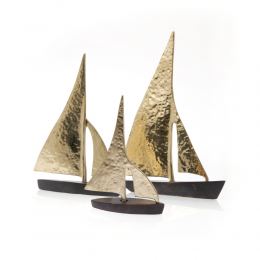 EliteCrafters has wide collection of nautical corporate gifts or business gifts.
Impressive & stylish, high quality corporate - business gifts based on nautical designs & themes, desk accessories, wall decor art ornaments, table sculptures & much more.
Select your nautical gifts such as ships, sailboats, sea boats in many sizes and styles, seagull birds, sea life fishes, nautical emblems and symbols, anchors, nautical wheels, sea shells and nautical knots.
Elitecrafters collection of nautical corporate - business gifts is ideal for every occasion, event or nautical decor enhancement.
Many leading shipping companies & agencies choose EliteCrafters collection of maritime - sailing - nautical gifts for their corporate gifts -business gifts.
Please fill the form below to download directly Elitecrafters Nautical Themes Business Gifts Catalogue (format pdf, file size 5.5MB)

Note: Nautical Corporate - business gifts catalogue prices are purely informative. Please request special offer with discount prices for your specific project.
Download Complete Business - Corporate Gifts Catalogue (Pdf file, size 20MB)

More on Nautical Gifts catalogue ▼